The Palms of Destin
June 5, 2015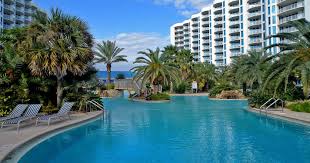 If you've been looking for accommodations for your Emerald Coast vacation, there is a good chance you have come across The Palms of Destin. This is one of the most popular resorts in all of Destin. The resort and conference center caters to both business and pleasure travelers, and has tons of amenities that guests enjoy. Take a look at what you will get when you stay at The Palms of Destin.
Accommodations
The Palms of Destin has one, two, and three bedroom condos. The condos come with flat screen TVs, washers, dryers, two full bathrooms, fully equipped kitchens, and balconies with sliding doors. You can get a condo that overlooks the pool, the city, or the Gulf of Mexico.
Resort Amenities
As nice as the condos are, you will want to venture out on the property when you stay at The Palms of Destin. When you do, you are in for a real treat. The resort is full of fun things to do.
First, it's just a three minute shuttle ride from the beach at Henderson Beach State Park. The resort offers a free shuttle ride so you can hop on and hit the beach.
The Palms of Destin is also home to Destin's largest lagoon pool. The pool has 5 dancing waterfalls and walking bridges. In addition to this 11,000 square foot pool, you can also enjoy a 21,000 gallon heated pool. There is also a children's splash area at the resort.
The Palms of Destin also has tennis courts, basketball courts, and a fitness center. In addition, it has a playground, general store, and spa, as well as a restaurant and a sports bar. It even has a concierge service in case you need help with something offsite.
It's easy to see why The Palms of Destin is so popular with travelers. If you want to have access to all of these features, book your condo today.
This entry was posted in Destin Vacation Rentals. Bookmark the permalink.