Teen Night at Fudpuckers Destin FL
June 25, 2015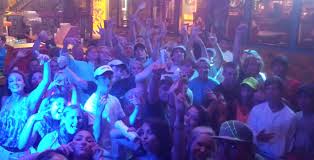 It's been a great summer so far in Destin. The sun has been shining, the beaches have been full of vacationers, and the restaurants have been serving up some delicious food. Now, you can add one more thing to the list. Fudpuckers Destin FL is hosting Teen Night once again. If you have teenagers, Teen Night is sure to be a hit in your household.
What is Teen Night?
Teen Night is a special evening that is held every Wednesday from 10 PM until 1 AM all summer long. All teens aged 14 to 17 can come to Teen Night at Fudpuckers Destin FL. Dancing is the main event at Teen Night. Fudpuckers Destin FL brings in some of the top DJs on the Emerald Coast to get the party going at this event. Along with the dancing, Fudpuckers gives away prizes that are donated by local and national sponsors. That definitely adds to the fun at Teen Night.
Teen Night at Fudpuckers Destin FL is smoke free and alcohol free. Attendees can get free Coca-Cola brand soft drinks, along with free water at the event. This makes it an affordable night out on the town for teens.
Safety
In order to make sure that the teens are safe, Fudpuckers Destin FL keeps a fully trained staff onsite. In addition, off-duty Sheriff's Deputies patrol the interior and outside of Fudpuckers during the event. The adults will make sure the premises stays free of tobacco, drugs, and alcohol.
Parents who don't feel comfortable leaving their teens can stay in the viewing lounge. Once there, they can order food and drinks while they watch their teens.
Teen Night at Fudpuckers Destin FL is the perfect place for teens. If your kids are sick of doing the same old things every night, drop them off at Teen Night.
 
This entry was posted in What's Happening Now. Bookmark the permalink.