Take the RV to Camp Gulf
February 19, 2015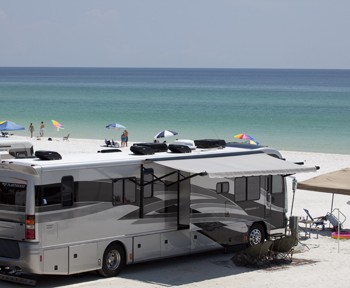 If you love camping as much as you love a beach vacation, check out Camp Gulf. Different from other Destin resorts, Camp Gulf is all about camping fun. This isn't your typical campground, though. It is full of style so you can enjoy luxurious camping during your vacation.
RV Sites at Camp Gulf
Most Destin resorts only have condos, but Camp Gulf has RV sites that are perfect for your camping trip. You have three choices when it comes to RV sites at Camp Gulf. You can stay at a Beach Front Site if you want to enjoy a Gulf view and walk right out onto the sand. Beach Sites are just a row behind Beach Front Sites. These are a great option if you want to stay on the beach but you don't want the water right at your front door. Upper Park Sites are surrounded by grass and shade, so you can enjoy a little bit of nature during your trip.
Cabins at Camp Gulf
If you don't have an RV, you can still stay at Camp Gulf. Just book one of the cabins. Just like the RV sites, you have various options when it comes to cabins. You can stay at the Sandcastle Cabins, which are 400 steps from the beach, or The Oaks cabins, which are 800 steps away. The cabins are pet friendly and have a living area and fully equipped kitchens. They also have cable TV and Wi-Fi.
Resort Amenities
When you stay at one of the Destin resorts, you expect a lot of amenities. You will not be disappointed with your trip to Camp Gulf. The resort has an activity center with an Xbox, basketball and shuffle board courts, two heated pools, a castling lake, and a camp store and gift shop. You can even rent golf carts, wagons and Segways or buy some soft see ice cream at the resort.
If you want to enjoy one of the top Destin resorts, check out Camp Gulf. It has everything you need for the perfect camping trip.
This entry was posted in Destin Camping, Destin Vacation Rentals. Bookmark the permalink.