Surf Lessons in Destin
April 17, 2015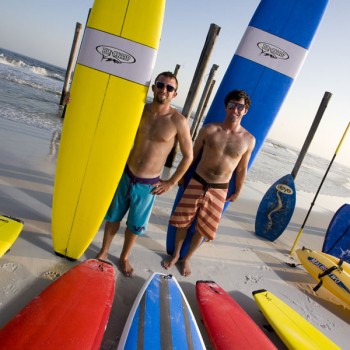 You don't have to rent a jet ski to enjoy some Destin water sports. You can also ride the waves on a surfboard. Of course, you need to know how to surf before you go out there. That's where the All-A-Board Surf School can help. The surf school will teach you everything you need to know about mastering the waves. Then, you can ride the big one during your Destin vacation.
You have two options for surf lessons with the surf school. You can attend the All-A-Board Camp or take All-A-Board Private lessons.
All-A-Board Camp
If you attend the All-A-Board Camp, you will go through three hours of hands on instruction from the skilled trainers. You will also enjoy an hour of free surf.
You will learn everything that you need to ride the waves with this camp. Also, you will get to watch others as they learn. That can be incredibly beneficial.
The surf school recommends the All-A-Board Camp for beginners.
All-A-Board Private Lessons
The All-A-Board Private Lessons last an hour. This includes the same information as the camp, but it is in a one-on-one setting. If you are a bit shy and don't want to learn to surf in front of others, this is a good option.
What's Included with Camp and Lessons
If you attend camp or a private lesson, the school will provide you with all of the equipment you will need to ride the waves. That means you will get a surfboard, wax, rash guards, leash, and other items. Then, you can go out and buy your own if you become addicted to surfing.
If you want to expand past the normal Destin water sports, schedule your surf lessons today. You can save money on surf lessons with a special coupon. Just click below to book your lessons at a discount.
Save Money on Surf Lessons – Order Online Now
This entry was posted in Destin Florida Activities. Bookmark the permalink.