See Live Gators in Destin
January 14, 2015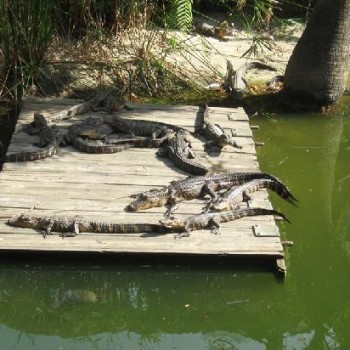 There are few times when you can get up close and personal with alligators without having any fear. Gator Beach Destin is one of those times. Located at Fudpucker's, Gator Beach Destin is a safe spot to take the kids so they can view the gators. Best of all, admission is free so you don't need to break out the wallet to go to Gator Beach. That makes this the perfect Destin attraction.
What's at Gator Beach Destin?
As the name suggests, Gator Beach Destin is full of live gators. It is also home to Pearl, an albino alligator. Albino alligators are extremely rare. In fact, there are only 50 of them in the entire United States, so it is worth the trip just to see this gator. You and your kids will be amazed as soon as you see Pearl.
Along with viewing the gators, you can actually feed them. You can stop by the Gator Bait Shack onsite to buy some specially formulated gator food. They will give you a cane pole to attach it to so you can lower it down to the pond without any problems. Then, the gators will snatch it up for a snack. It's a lot of fun to watch the gators take the food from the cane pole.
In addition, you can catch educational gator shows at Gator Beach Destin. You will get to learn a lot about alligators during the shows. Along with listing and learning, you can ask questions. If you have any burning questions about gators, be sure to attend one of these shows so you can get answers.
Gator Beach Destin is a must see when you are in Destin. Bring the kids or stop by on your own. Either way, you are in for a real treat when you go to Gator Beach Destin.
This entry was posted in Destin Florida Attractions. Bookmark the permalink.