Rent a Bike from Big Daddy's
April 13, 2015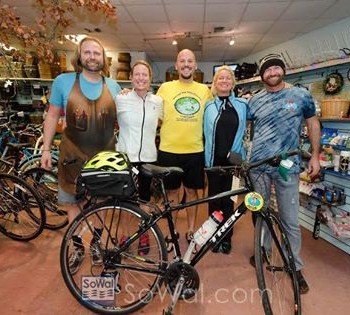 You don't need a car to explore Destin. You can go around Destin on your bike. You have two options for exploring Destin on a bike. You can bring your bike to Destin with you or you can rent one when you arrive on the Emerald Coast. If you don't have the room to bring your bike, you need to search for Destin bike rentals. Big Daddy's Bike Shop is one of the top choices for Destin bike rentals.
Rentals at Big Daddy's
If you want to choose a company that offers a lot of options for Destin bike rentals, Big Daddy's is the perfect choice. The company has lots of choices so you won't have a problem finding the rental you want.
You can choose something from the Fashion Fleet, or you can get an Electra Townie. You can also get a Beach Cruiser or a Road Bike from Big Daddy's. In addition, the bike rental company has Mountain Bikes and Hybrids, as well as All-Terrain bikes that are perfect for the beach. You can even get a Tandem bike or a Trike, as well as attachments. You can use attachments to carry children, pets, or even your belongings.
The company also has kid's bikes available. That means you can go for a ride with the entire family.
Other Services
Big Daddy's offers more than Destin bike rentals. It also sells and repairs bikes. If you want to buy a new bike or you need to have one fixed, stop by Big Daddy's during your vacation. They will take care of you and get you back out on the trails.
Destin bike rentals make it easy to get out on the road. If you want to explore Destin on a bike, consider renting a bike instead of bringing one. That way, you won't be weighed down with your bike on your way to Destin.
This entry was posted in Destin Florida Activities. Bookmark the permalink.