Emerald Coast Scuba
January 20, 2015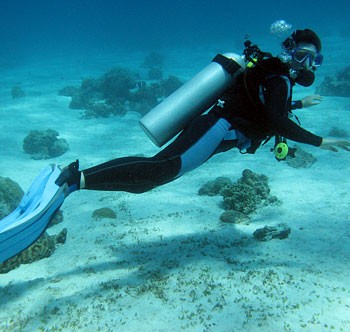 If you love marine life, you might want to go scuba diving during your Destin vacation. Emerald Coat Scuba is one of the top companies for scuba diving in Destin. The company also offers other excursions, ensuring that everyone can have a great time out in the water with Emerald Coast Scuba.
Go Diving with Emerald Coast Scuba
Emerald Coast Scuba has two scuba diving trips available. You can go on the three hour trip, which has one dive. You will go on a shallow trip to the Destin Jetties if you choose this option. This will give you a lot of time at the bottom so you will get to see lots of marine life.
The four hour trip includes two dives. You will get to explore reefs and wrecks if you go on this dive. You will take your first dive by a natural limestone reef. Then, you will go to a wreck that is in 55 to 65 feet of water.
If you don't know how to scuba dive, you can take classes with Emerald Coast Scuba. Then, you can go on one of these scuba diving trips.
Snorkeling with Emerald Coast Scuba
While scuba diving is the most popular activity that Emerald Coast Scuba has to offer, you can also go snorkeling. They offer a two hour Snorkel/Cruise trip, as well as a two hour fireworks cruise on Thursday nights from May until August.
In addition, you can take swimming lessons or go swimming with Emerald Coast Scuba.
It is easy to see why so many people choose Emerald Coast Scuba when they are ready for an outdoor adventure. If you want to have some fun in the water, schedule an appointment with Emerald Coast Scuba. Then, get ready to have lots of fun out in paradise during your Destin vacation.
 
 
 
This entry was posted in Destin Florida Activities. Bookmark the permalink.