Double Time Fishing Charters
April 24, 2015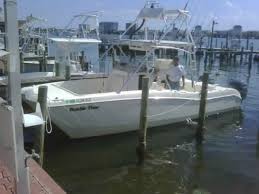 If you are looking for a fishing charter to take during your Destin vacation, you might be a bit overwhelmed. A quick search online brings back countless Destin Florida fishing charters, so it can feel like an impossible decision. That's where we can help. Instead of having to try out the various fishing charters in hopes of finding one that you like, you can learn about the various Destin Florida fishing charters on this site. Then, you can make an informed decision.
Today, we are going to look at Double Time Fishing Charters.
About Double Time Fishing Charters
Double Time Fishing Charters takes people out on a 25′ world Cat Catamaran. The boat is named the Double Time for good reason. It is a fast fishing boat so you can get to where the fish are biting in no time at all.
You can expect a personalized experience when you go out on the Double Time. The captain just takes four people out at a time so you won't be overcrowded or have to wait for help.
You can go bottom fishing and trolling on this charter boat. You can go along the gulf and the bay. You can also go sightseeing when you go on this charter boat. In other words, there really is something for everyone aboard this charter boat.
Who is the Trip For?
While some Destin Florida fishing charters are geared toward novice or experienced anglers, Double Time Fishing Charters is meant for everyone. Whether you have never thrown a line into the water or you are a seasoned pro, you can get something out of this trip. You can get all of the help you want during the trip, or the captain can sit back and let you run the show.
Double Time is one of the top options for Destin Florida fishing charters. Make your reservations and get ready to have a blast with Double Time.
This entry was posted in Destin Florida Fishing. Bookmark the permalink.