Destin Gulfarium Summer Showtime Schedule
June 30, 2015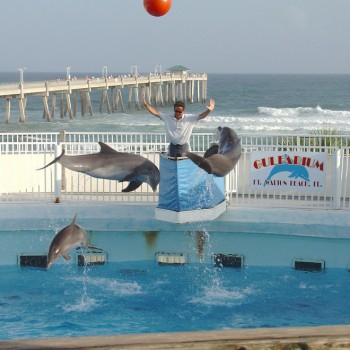 It's summer in Destin, which means the Destin Gulfarium has put out its Summer Showtime Schedule. The schedule is valid through September 7. Check out the schedule if you plan to visit the Destin Gulfarium during your vacation.
Schedules for All the Shows
The Dolphin Show takes place at 10 AM, 12 PM, and 2 PM over the summer. If you want to see these beloved creatures, get there early and grab a spot.
If you prefer the Sea Lion Show, you can attend it at 11 AM, 1 PM, and 3:30 PM. This is another popular option, which is why it has so many shows.
The Otter Chat takes place at 9:30 AM and 3 PM. If you plan on being at the Destin Gulfarium at 11:30 PM or 3:15 PM, you can stop by the Penguin Chat.
The Harbor Seal chat is another great choice. It's available at 12:30 PM.
You can also attend the Living Sea Chat. It's held at 1:30 PM every day during the summer.
If you love Sharks, you need to see the Shark Chat at the Destin Gulfarium. It takes place at 2:30 PM. People love sharks so be sure to grab your spot early.
Reptiles are also on the schedule at the Destin Gulfarium. Stop by for the Reptile Chat at 4 PM any day of the week when you are in Destin.
Show Information
Seating is available on a first come, first serve basis so it is a good idea to get there early. You don't want to miss out on seeing one of these exciting chats at the Destin Gulfarium. These shows are informative and perfect for people of all ages, including small kids and older adults.
The Destin Gulfarium is fun for the entire family. Load everyone up and head to the Gulfarium for a fun-filled day.
 
This entry was posted in Destin Florida Attractions. Bookmark the permalink.