Destin Gulfarium – Fun for the Entire Family
March 2, 2015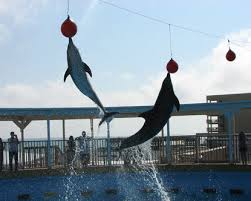 If you want to go somewhere that will provide fun for the entire family, consider a trip to the Destin Gulfarium. One of the most popular attractions for families in Destin, the Destin Gulfarium has something for everyone. Whether you are a child, a parent, a grandparent, or a couple on a vacation, you can expect to have fun at the Gulfarium.
Animal Encounters
While the Destin Gulfarium has various exhibits and shows, the Animal Encounters stand out among the rest of the activities available. These encounters give families the chance to get up close and personal with the various animals at the Destin Gulfarium. It is important that you reserve one of the Animal Encounters ahead of time, since they have limited space available. You can reserve your space by going to the Destin Gulfarium website.
You can easily find an Animal Encounter that your kids will love. The Dolphin Splash Encounter is one of the most popular at the Destin Gulfarium. People go on a submerged platform, where they interact with the dolphins.
The Kids Safari is another popular Animal Encounter. You will get to meet birds, reptiles, and fish on the encounter. Designed for kids, people of all ages can go on this safari.
The Discover Gators Encounter is another popular choice. Kids aged 5 and up can meet various reptiles on this encounter at the Destin Gulfarium
You can also take the family on the Stingray Bay Snorkel Animal Encounter. Everyone will get some snorkel gear and then they will get to go out on an adventure with these amazing creatures. You definitely don't want to miss out on this.
Be sure to stop by the Destin Gulfarium during your next vacation. Whether you are traveling with kids or your special someone, you will have a blast enjoying the various Animal Encounters. Just be sure to get your tickets early so you don't miss out on the fun.
 
 
This entry was posted in Destin Florida Attractions. Bookmark the permalink.