Deep Sea Fishing with Olin Marler
February 1, 2015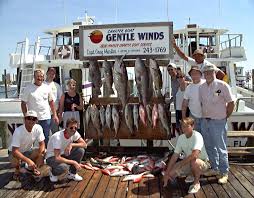 Some people like to hit the beach when they are in Destin. Others like to get deals at the outlet mall or find the latest fashions at Destin Commons. Still others like to enjoy attractions like The Track. Then, there are those who love deep sea fishing. If you want to experience deep sea fishing, Olin Marler is a great choice. This company offers Destin charter fishing at its finest.
About Olin Marler's Charter Fishing
Olin Marler offers a variety of fishing charters. You can go on a party boat fishing trip, group fishing trip, or a private fishing trip. The party boat fishing trip is the best deal. If you go with this option, you can choose a 4, 6, or 8 hour fishing trip. Up to 48 people can go on this fishing charter.
If you don't mind spending a little extra money, you can take a group charter. This charter fits up to 15 passengers. You can go on a 4, 6, 8, 10, or 12 hour fishing charter. You will pay $100 per person for the first four hours, and then the price will increase by $50 for every two additional hours.
Get Deals on Destin Deep Sea Fishing
If you want to go on a fishing charter without paying full price, there is some good news for you. You can book a deal today and save money on your next Destin charter fishing trip. Then you will have some extra money to spend on other Destin attractions. 
Save Money on Destin Charter Fishing – Book Online Now
This deal is for the party fishing trip. This deal won't last forever, so be sure to book it soon.
Destin charter fishing is one of the most popular activities on the Emerald Coast. Book your charter fishing trip so you can find out why Destin is known as the World's Luckiest Fishing Village.
This entry was posted in Destin Florida Fishing. Bookmark the permalink.